Getting a 1300 or 1800 number for your business? Learn why it matters.
What are 1300 or 1800 numbers and what makes them so special? Learn about the differences between 1300 and 1800 numbers as well as the benefits they provide for your business.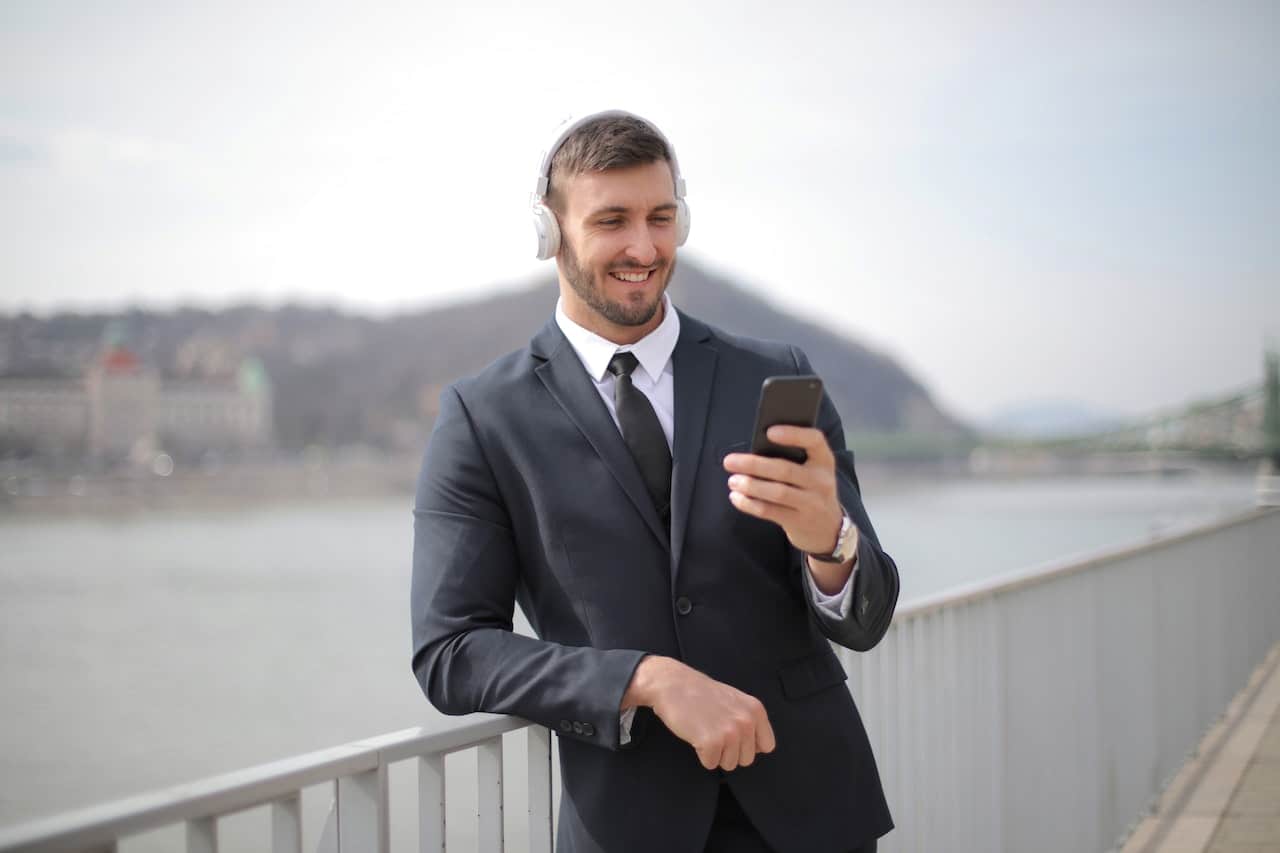 You've probably seen and dialled a 1300/1800 number before - but why are they so popular and could they benefit your business?
Well, let's put it this way. 1300 and 1800 numbers work like a call management system but the beauty of it is that you don't have to have people physically present at their desks to facilitate this.
In this article, we explore the benefits of uConnected's 1300 and 1800 numbers and what they can do for a business so you can decide if it's right for you.
What Are 1300/1800 Numbers? 1300 and 1800 numbers are inbound numbers which means that they can only be used to receive incoming calls. Both numbers come with exactly the same features and functions, which include a range of call handling and routing options.
1300 or 1800 numbers can serve as the main point of contact for your business, simplifying your call management services and thus, allowing you to utilise your resources more efficiently.
The main difference between the two numbers is the cost involved.
| Number | Costs |
| --- | --- |
| 1300 | Often the cost of a local call for the caller |
| 1800 | Often free for the caller |
Above provides a reasonable indication of costs for callers, however it can vary based on the arrangement your caller has with their phone provider. The person making the call has to contact their provider to know exactly how much the call will cost.
For example, if Sarah were to dial a 1800 from her office landline, the call would likely be free for her. But if she were to dial a 1300 number instead, the cost of the call for her would likely be the same as any other local call.
Having a call forwarding or call management system in place is a cheaper option than having to employ staff to man and redirect the phone lines. This way, you're less likely to miss out on leads but still have the freedom of being in more than one location.
Also, customers are more likely to call your 1300 or 1800 number since it would be the more cost effective option for them too.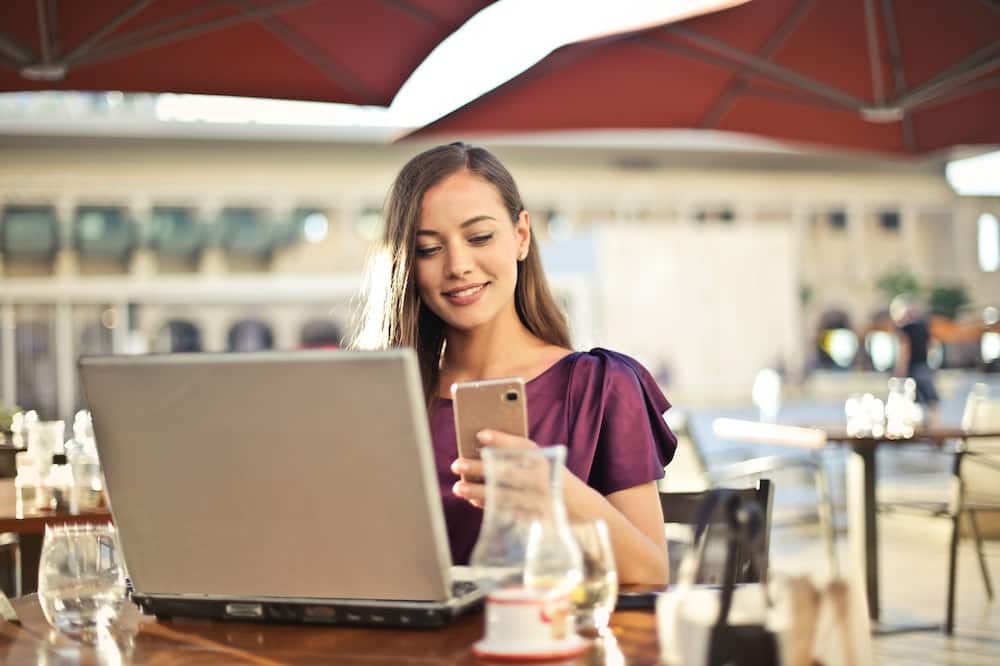 Having a 1300 or 1800 number can help establish a brand presence even if you are a small business. This is because it gives the impression of a larger, stable and reliable business.
1300 or 1800 numbers also make it more appealing for customers to reach out to your business because they're toll-free and have better functionality compared to a landline.
The cool thing is that if a call forwarding service is activated and you're answering a call from your mobile phone, your customers wouldn't be able to tell. All they would see is that you're professional enough to stay on top of your calls.
Virtual landline numbers work to host a range of call management functions such as welcome greetings, call forwarding and more.
So if you're managing a growing business, a virtual landline would work well for you. You could use call forwarding features to simplify your call management process, allowing you to allocate your resources more efficiently.
uConnected allows businesses to select available numbers instantly online. Simply select a number, key in your details, confirm the number and you're good to go.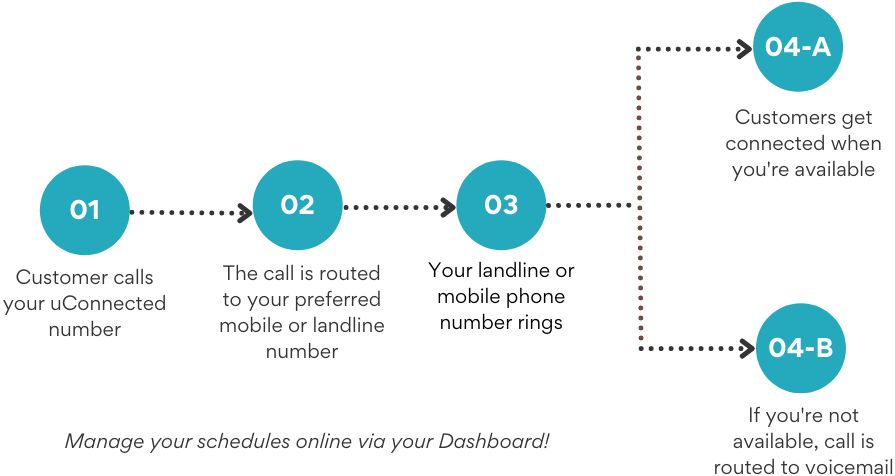 Say for example Daniel runs a digital marketing agency based in Sydney, Australia. Once working hours are over at 5.30pm, Daniel can either pause and divert calls manually or schedule ahead of time when calls get forwarded to available staff or to voicemail. That way, when a customer calls after 5.30pm, their call is either:
Rerouted to an alternative number (mobile/landline) so Daniel or his team can answer the call; or
The customer leaves a voice message which is forwarded straight to Daniel and the team's email for them to look at the next morning.
Gone are the days where you need to be glued to your desk to answer calls. If your work schedule requires you to attend meetings away from the office, you can enable call forwarding while you're away.
If you can't receive calls during this time, they can either be rerouted to your mobile phone or to an available colleague.
You can also have access to your call history list. This will be helpful when you need to have detailed information on your call history in order to follow up with leads or clients.
You will be able to download your voicemails, which will be sent straight to your email inbox. This will come in handy when important information pertaining to your business is conveyed over voicemail and you need to store them somewhere. You can also play them directly from with the uConnected Mobile App.
uConnected starts from as low as $29 and can go up to $149 monthly. The recharge option you choose would depend on what features you and your business require, but generally 1300, 1800 and virtual numbers all cost less for callers vs. the traditional carrier-based calls.
Get a smart 1300 or 1800 number today and take your business to the next level. Gone are the days where you're constantly missing out on important calls because you're too busy managing your business.
If you're looking to be more reachable, you've come to the right place: